My stripboard KS-20 filter clone
Jan 03, 2022

edited: Nov 06, 2023
My modular synth has been in need of a filter for a long time now and a MS-20 VCF clone is an obvious choice loved by many, which is no suprise as it does sound absolutely amazing. However I didn't find a good stripboard layout online that would fit on the 24-row boards I use so I decided to design my own.
I started out by building René Schmitz's popular MS-20 clone on a breadboard just to get a better understanding of the circuit and to see that it works. Then I stumbled upon the KS-20 by Kassutronics, which has an added circuit to blend between the low- and highpass modes as well as a drive knob for the input. I added Kassu's additions to my breadboard circuit, tested them and started working on a stripboard layout in DIYLC.
You can find Kassu's schematics here.
Stripboard layout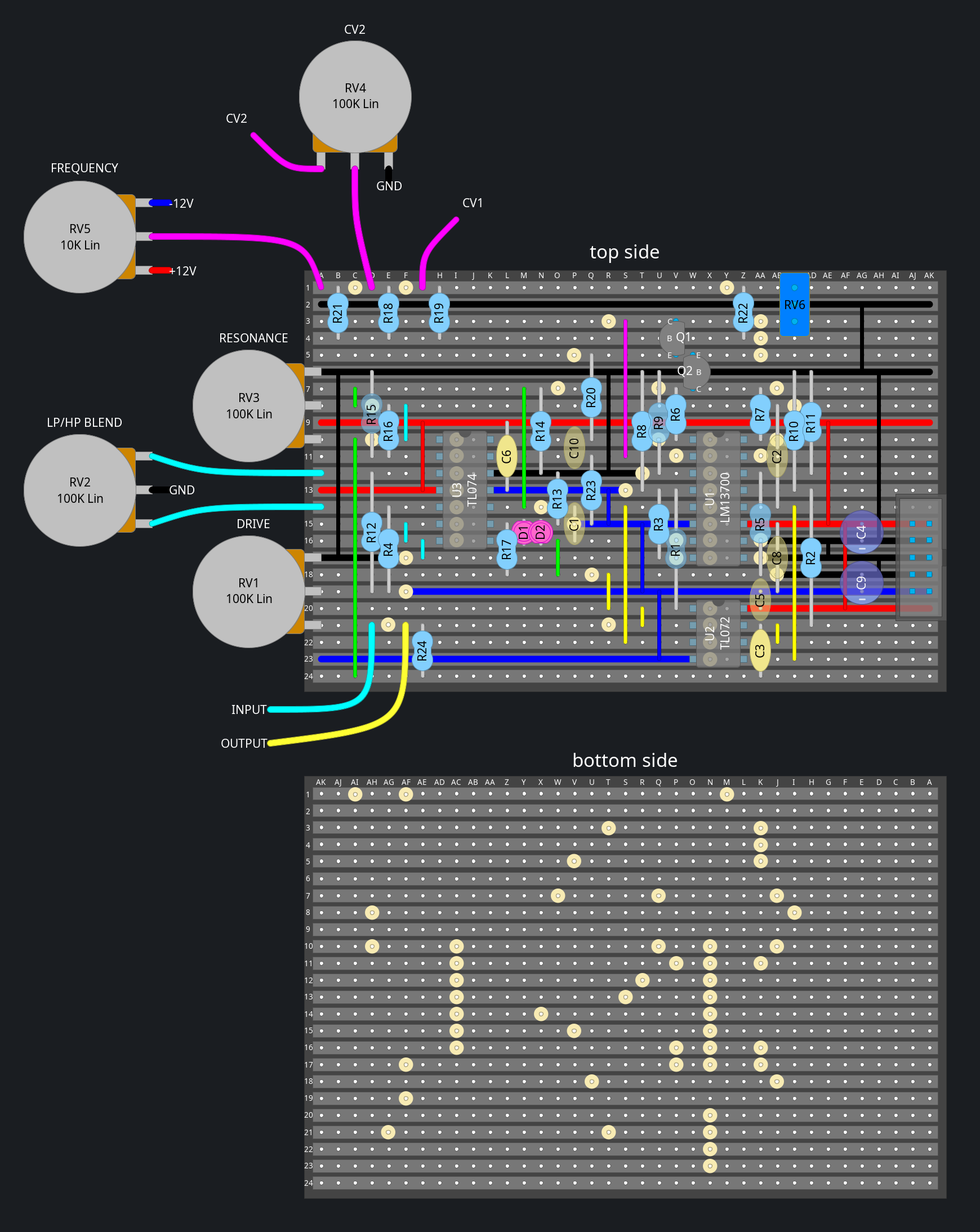 BOM
| Part | Value |
| --- | --- |
| R8, R9, R10, R11 | 220 |
| R24 | 1k |
| R22 | 1k5 |
| R13 | 2k |
| R3, R20 | 4k7 |
| R1, R2, R5, R6, R7, R17 | 10k |
| R14 | 47k |
| R4, R12, R15, R16, R18, R19 | 100k |
| R21 | 220k |
| R23 | 470k |
| C1, C2 | 1n |
| C10 | 4n7 |
| C5, C6, C8 | 100n |
| C3 | 470n |
| C4, C9 | 10μ |
| D1, D2 | LED |
| Q1, Q2 | 2N3906 |
| U1 | LM13700 |
| U2 | TL072 |
| U3 | TL074 |
| RV1, RV2, RV3, RV4 | 100k lin |
| RV5 | 10k lin |
| RV6 | 1k |
The changes I made to Kassu's design:
Used 2N3906 transistors instead of BC557Cs
Replaced the 2 TL072s with a single TL074
Replaced the NE5532 (U2) with a TL072
Replaced R13 with a 2K to get more resonance
Used purple LEDs instead of green ones

The purple ones have a bigger forward voltage than green ones so they do alter the sound a bit. I tested a bunch of different LEDs and the difference in sound between them was noticeable but very small.
Panel
Here's the template I used to make the panel: ks20-panel.pdf (0.0 MiB)
Timelapse video of building the module
I took a bunch of pictures with my phone while soldering the module, lined them up in GIMP and converted them to a video with FFmpeg. I think it looks pretty cool.
The finished module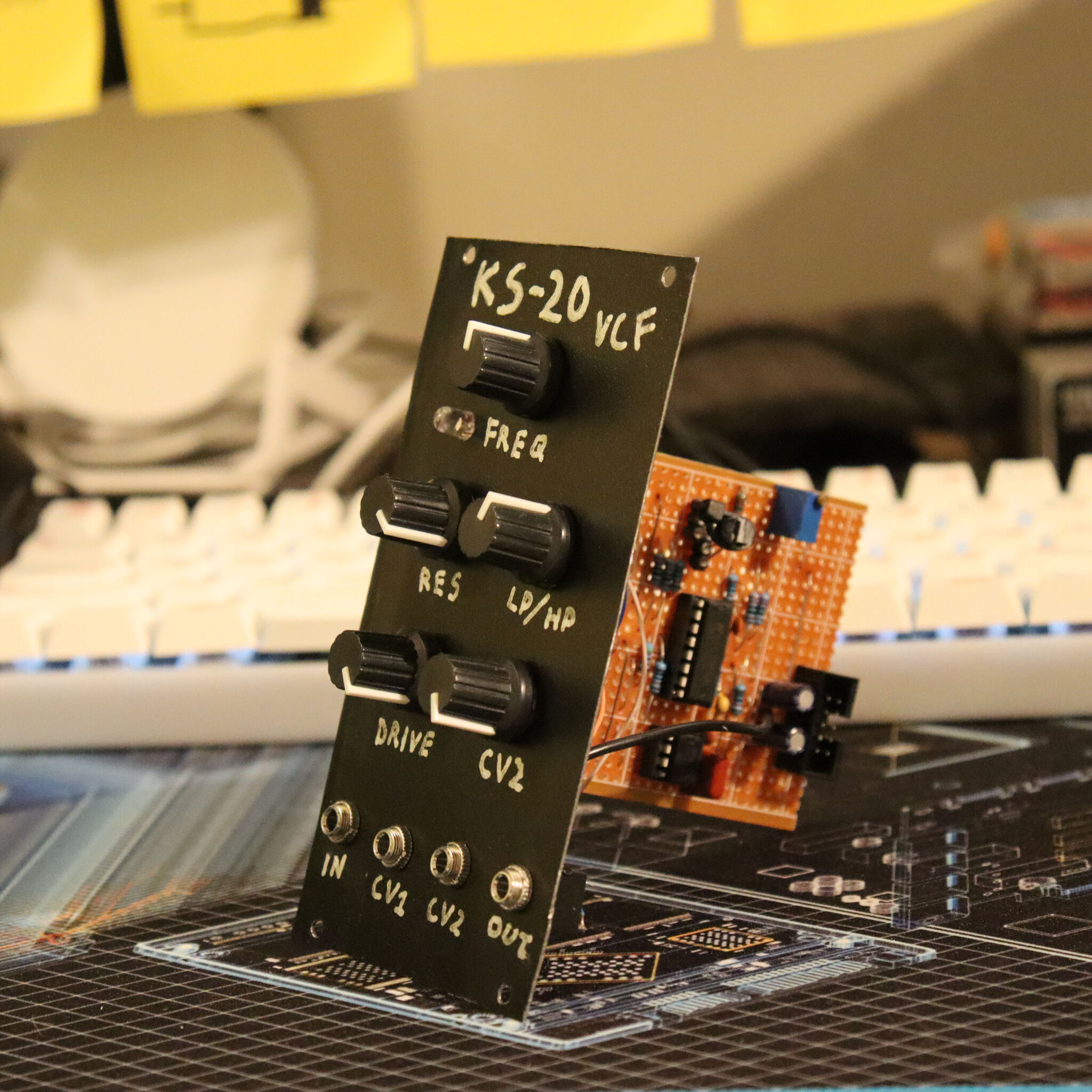 The 14hp panel I made is pretty chonky and the module could have probably fit into 10hp but it looks nice and it's good to have a bit of space for my fingers.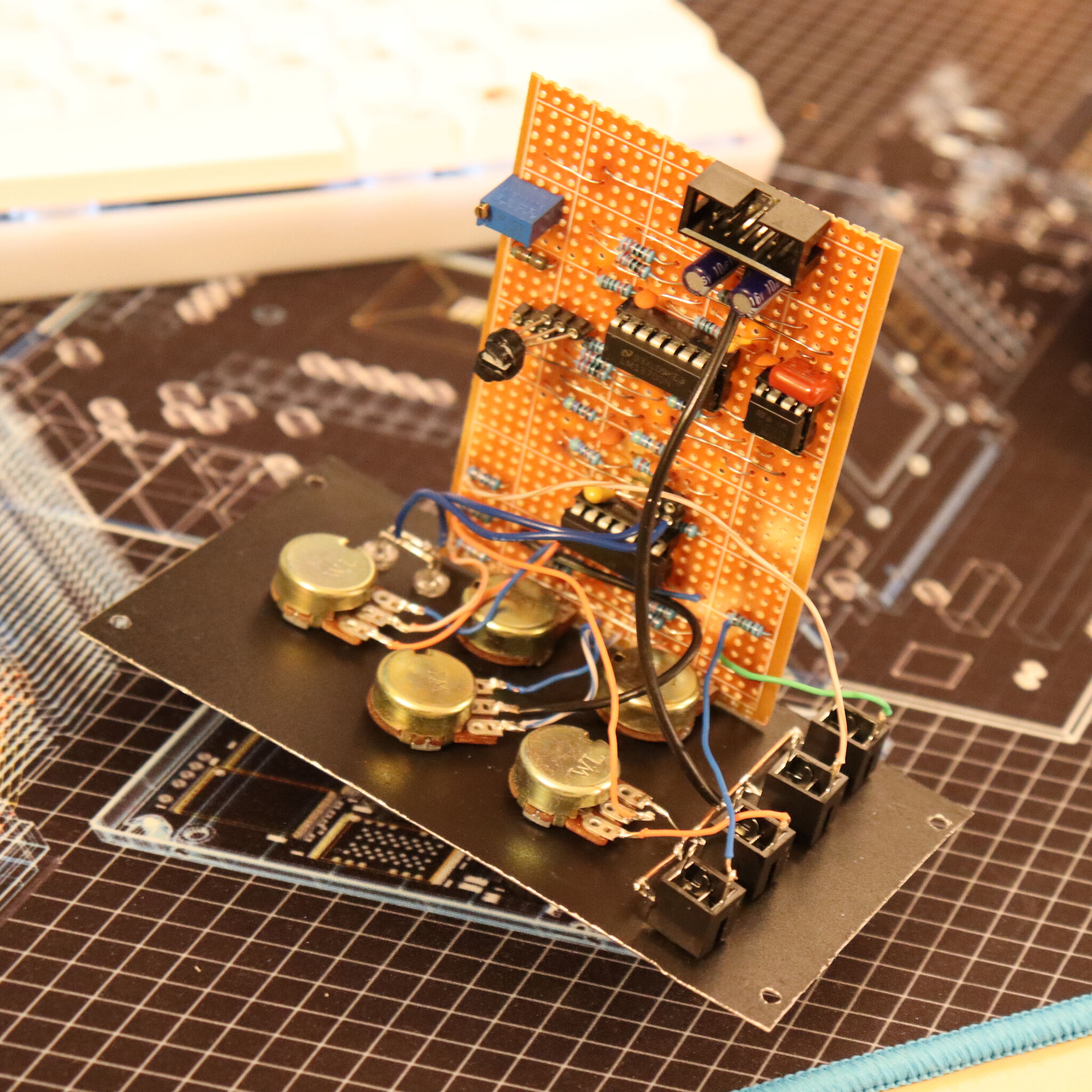 Sound clips
Here are some clips of me sweeping the frequency knob with increasing amounts of resonance.
Lowpass
Bandpass (LP/HP pot at 50%)
Highpass
More
You can find more info on the MS-20 filter and various DIY versions of it at wiki.synthdiy.com.